Mark Peters, lead trainer, Tai chi & qigong for rehabilitation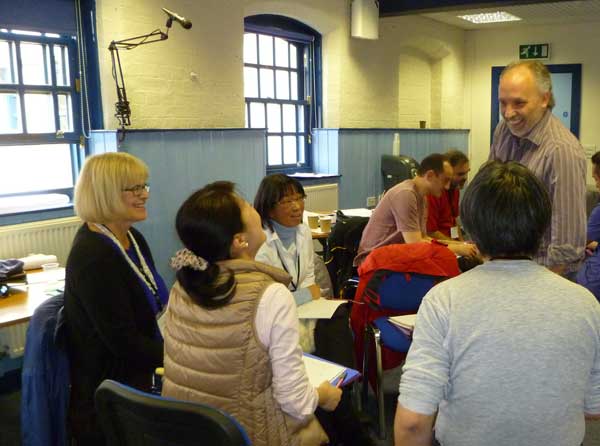 Mark has over 30 years training and experience in tai chi and qigong, and 20 years in patient rehabilitation.
In addition to training NHS staff in tai chi for falls prevention, he regularly speaks at national conferences.
This expanded into both acute and chronic patient work in both mental and physical health.
Prior to COVID Mark held a 5-year contract with the NHS working with COPD patients. During this time he achieved more than double the national average for patient retention, many of who continued after the 6 weeks by moving to community classes.
Mark has been involved in a number of research projects including an 18-month phase III & IV cardiac rehabilitation research project which led to the funding of the only tai chi DVD available on the NHS.
The most quoted recent study was "Tai Chi is an effective form of exercise to reduce markers of frailty in older age" which is often referred to as Tai chi-V-Zumba and was also featured on Trust me I'm a doctor with Dr. Michael Moseley.
Mark is one of the original members of the Tai Chi & Qigong Union for Great Britain (when formed as the TCUGB in 1991), Senior level instructor, Director, and Honorary President.
He wrote the Tai Chi & Qigong CPD standards for REPs in 2010 and led the team developing the National standards with CIMSPA issued on 2022
He has trained staff at The National Star College which is an independent specialist further education college for people with physical disabilities, acquired brain injuries and associated learning difficulties.
He was asked to form the NHS network site tai chi & chi-kung for patient rehabilitation which shares research as well as background information for staff and the public. The site is regularly updated and can be found at https://www.networks.nhs.uk/nhs-networks/tai-chi-chi-kung-for-rehabilitation
He has now linked this to the tai chi & qigong union for Great Britain so interested people can access the list of instructors.
To date, Mark has not found an area in mental or physical health that is not able to benefit from tai chi & qigong and continues to train staff both nationally and internationally.
If you are interested in Mark talking at your conference or delivering training to your staff please contact him at This email address is being protected from spambots. You need JavaScript enabled to view it. or phone +44(0)121 251 6172